Invisalign® in Edina and Golden Valley, MN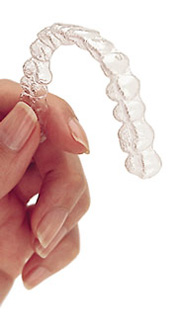 Get the beautiful, healthy smile you've always wanted at Centennial Lakes Dental Group!
Invisalign is a product to straighten your teeth. It utilizes a series of clear custom-fit trays (aligners) that fit over your teeth. Invisalign aligners are created from proprietary SmartTrack® material and SmartForce® features, which make them clinically proven to improve control of tooth movement.
Invisalign aligners are specifically built to slowly move your teeth over time. You wear each aligner for one to two weeks and your teeth slowly move into alignment. Depending on your response to treatment, particularly in adults, we may consider longer periods between aligner changes.
What makes Invisalign the "clear" choice?
They are practically invisible: Most people won't even know you're going through treatment, because Invisalign aligners are virtually invisible!
They are removable: You can continue doing all the things you normally would, from brushing and flossing to eating whatever you like.
They are comfortable: Aligners made from SmartTrack material are comfortable, fit well, and are easy to put on and take off. They don't rub on your lips nearly as much and are more comfortable than metal braces.
Your Treatment
For the best results, wear your Invisalign clear aligners 20 to 22 hours a day, and take them out only to eat, brush, and floss. As you wear each set of aligners, your teeth will gently and gradually shift into place.
Treatment length can vary depending on the complexity of your alignment needs. It typically can last anywhere from two to 18 months. We will determine the length of your treatment during your initial consultation at our Edina or Golden Valley dental office.
Is Invisalign right for you?
Invisalign can be used to treat crowding, spacing, overbite, cross bite, and edge-to-edge bites. To learn if Invisalign is right for your smile, please contact Centennial Lakes Dental Group to schedule an appointment!
For more information on Invisalign, you can visit the Invisalign website.